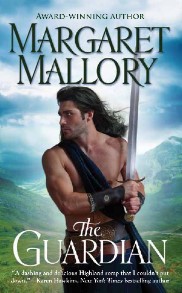 Book 1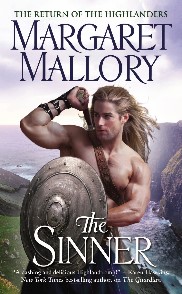 Book 2
I am only in the middle of
The Sinner
by
Margaret Mallory
, and I just bought books 3 & 4 in the series. It's that good. I won book 1 in 2011, but I didn't read it until this month. If I remember correctly, I won
The Guardian
in a bundle of books from
Beverley Kendall
on
The Season Blog
. I have no excuse for not reading it immediately; no amount of to-be-read books should stand in your way of this series. (Of course, if I had read it when I received it, I wouldn't have been able to immediately purchase the entire series.)
The Sinner
kept me up past my bedtime last night. The only thing that stopped me from reading it to the end was wanting to have something great to look forward to tonight.
The series follows a group of four men: Ian (
The Guardian
), Alex (
The Sinner
), Duncan (
The Warrior
), and Connor (
The Chieftain
). Ian, Alex, and Connor are cousins (their mothers are/were sisters). Duncan's mother was Connor's nursemaid, and all four men grew up together. They are MacDonalds of Sleat, Scottish Highlanders. They are warriors.
Even though I am only halfway through
The Sinner
, I know I already love the book more than I enjoyed
The Guardian
. The first book in a series always has the burden of introducing the reader to a new world, plus the heroine in the first book has the name Sìleas, and I never was quite sure how to pronounce it in my mind as I read, so every time I read her name, I hit a mental roadblock. Glynis is the heroine in book 2, and I can pronounce that easily enough. Names aside, I like Alex more than Ian. He's a charmer.
Ms. Mallory's writing is wonderful. It is easy to read and flows. There is romance, danger, and fun. This is the type of writing I'm always thirsty for. Try it, you'll like it.